The Oscar nominations are in, with no surprises in the design category nominations. All five Best Costume Design contenders, for example, have already walked the red carpet.
Costume designer Sandy Powell has been here before, in more ways than one. In 1999, for her work on Shakespeare in Love, Powell won her first Academy Award for Best Costume Design—against herself (her other nominated film was Todd Haynes' Velvet Goldmine). "Two nominations, one speech," she joked in that acceptance. But in England where she was also a double nominee that year, it was competitor Velvet Goldmine that earned Powell her first British Academy award. That should make this year's chalk-and-cheese Carol vs Cinderella matchup a little interesting. At least for what a Powell win might reveal of British vs American industry tastes, since she's once again nominated where she is up for two BAFTAs (keeping the bookmakers busy calculating odds). Powell is even seeing double in other ways. While one is a fantasy and the other is period, both are influenced by post-War haute couture, both star Cate Blanchett and, although very different characters, by coincidence Marlene Dietrich was one of the references for both Cinderella's cruel stepmother and Carol Aird. I spoke with Powell about designing Cinderella, and again in December about working on the kaleidoscopic Carol.
When we spoke last month, Powell said that at the time she didn't give much thought to the fact that Carol cinematographer Ed Lachman (also nominated for Carol) would be shooting on Super 16mm film, "I just knew it wasn't digital which was a huge relief," she said. "I started my career working on films that were shot on film and I knew how colours and textures would turn out – how red would look." Red is the accent colour of the film's controlled and muted palette. "You start working with digital and things can go any way—it's all tweakable, fixable and changeable. Which means it's somebody else's decision on the shade of red and how it turns out. And it's also that everything is so super-clear with HD and digital, it's so unnaturally sharp that it's actually really nice to have the graininess of the 16mm."
The Danish Girl production designer nominee Eve Stewart told me much the same thing, about the challenges of high-definition film, particularly period visual design. "You have to soften it, because it's incredibly unforgiving. The painting techniques on the surfaces of just the walls, I had to add an incredible amount more layers than we would otherwise, it picks up every pigment and can have a modern look. We did 8-12 days of painting in each room just to get the layers, the workmanship."
One of the several tiny details Stewart took from David Ebershoff's highly descriptive historical novel was that of Lily's surroundings in her final moments outdoors. "There's a really beautiful passage of how she is sitting there looking at a cluster of silver birches and hearing women and baby's laughter, and it really stuck with me. Nobody will notice but me but there's a load of silver birch."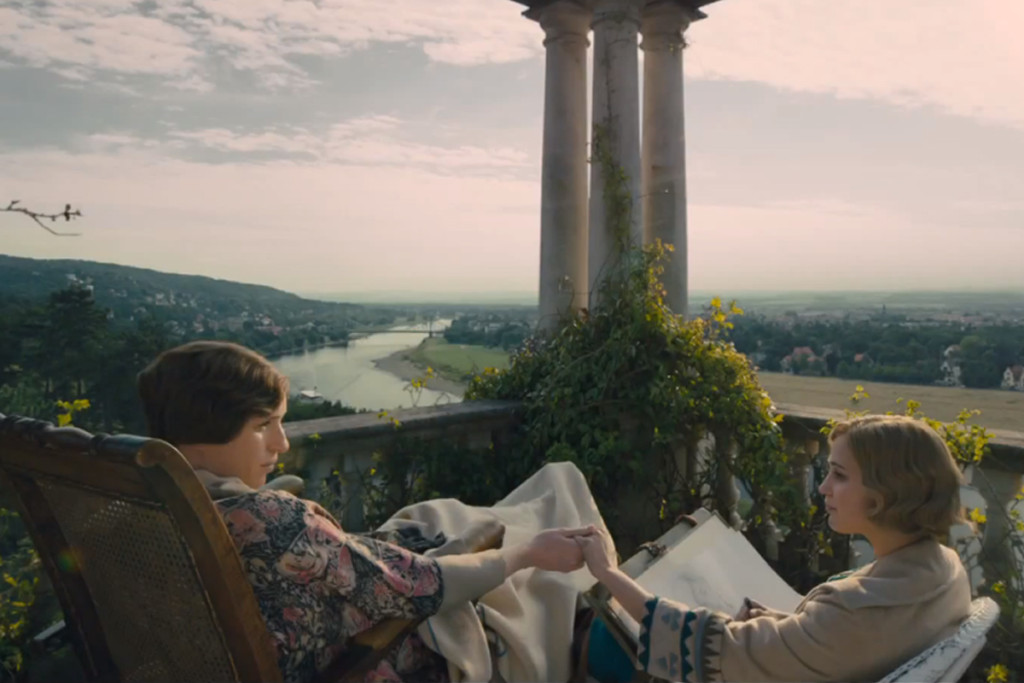 With her fur- and snow-covered workmanship in the winter survivor tale The Revenant, Jacqueline West referenced historical accounts and descriptions, and was as inspired by capucine monks as Akirakan National hunter-trappers and wilderness creatures, incorporating the symbolism of animal talismans into several character costumes and pelted garb the team then coated in period-accurate bear grease.
Jenny Beavan, who is best known for her design on period films like The Remains of the Day, Sense and Sensibility and Gosford Park (and won an Oscar for A Room with a View), is up for the epic road fantasy Mad Max: Fury Road. So are her colleagues Lesley Vanderwalk, Elka Wardega and Damian Martin from the makeup department and production designer Colin Gibson. All rightly so, for the indelible visual feast of diabolical skinheads that incorporates the original film's biker legacy — and for Furiosa, an instant icon. She's just one of a slew of riches from this movie we'll see in cosplay for years to come. And all that, working with her team of sewers and sculptors in an old garage in Namibia.
It helps to have regular collaborators and develop a working shorthand. 
The Danish Girl
's costume designer Paco Delgado and Stewart (who spoke to me about their film in December, here) were each previously nominated for 
Les Misérables
, for example, and Powell frequently works with Carol director Todd Haynes (and Blanchett, on films by other directors as well), and with the film's production designer Dante Ferretti on several occasions. 
I wasn't expecting The Duke of Burgundyto be on the list, but it's still a personal favourite I wish had more profile among audience and voters. Peter Strickland, Andrea Flesch and Pater Sparrow had a very small budget but created such an immersive, atemporal other-worldy place (going so far as to borrow dozens of butterfly and pinned-insect specimen boxes from the Hungarian national history museum, who were not told the film was a lesbian BDSM drama) that more than one a colleague has misremembered it as a foreign film.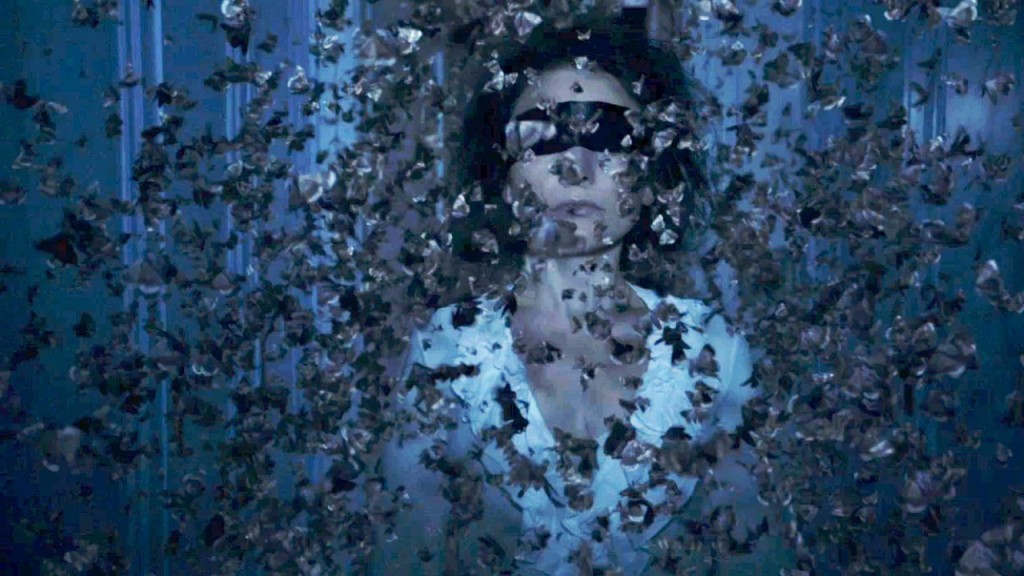 Since Academy members have historically been most wowed by crinolines and old lace, a few films do stand out as overlooked. I'm thinking especially of Guillermo del Toro's Crimson Peak, filmed in and around Toronto, whose art department and costume designer Kate Hawley did much sourcing – of antique lace, notions and vintage fabric around the city.
And Brooklyn's BAFTA-nominated Odile Dicks-Mireaux (An Education, Great Expectations) who, taking cues from the structure of Nick Hornby's adapted screenplay, created costumes that offered subtle but telling symmetries for Saorse Ronan's immigrant journey in the 1950s-set historical. Perhaps they were too subtle for voters.
As was Guy Ritchie's romp The Man from U.N.C.L.E. and the swinging, witty 1960s costumes by Joanna Johnston (and Arianne Phillips' contemporary throwback espionage counterpart, Kingsman).  Also absent from this list is Jacqueline Durran's theatrical period work on Macbeth, and Far From the Madding Crowd's brilliant Australian costume designer Janet Patterson (The Piano, Bright Star). The latter is quasi-understandable, since Patterson is by all accounts incredibly shy and doesn't do interviews, period—let alone Oscar campaigns. 
And there's one film that isn't nearly as obvious but certainly as historically challenging – is just as impressive for its rumpled, dumpy Dockers alone. For the Toronto-filmed feature Spotlight, Stephen Carter's principal interior set recreated the circa-2001 Boston Globe newsroom right down to the computer keyboards, books and outdated telephone models, in a disused downtown Sears warehouse. That talented production team included Canadian set designer/decorator William Cheng and Shane Vieau (also both on Crimson Peak). It's much less showy as a period film, but because its audience is already more familiar with what constitutes accuracy of the recent past than they might be with the typical interior of a biostation in space or the cut of an Edwardian suit jacket, almost more challenging to have to get right. And only underscores how design work in a contemporary setting (or in Spotlight's case, near-contemporary) almost always gets short shrift at the Oscars.
Like the Art Directors Guild, the Costume Designers Guild of America nominations wisely break down their categories further, since its respective members understand the craft firsthand (and that it's more equitable to compare fantasy contemporary and period work with only itself). As it happens the CDGA's Lacoste Spotlight Award this year is none other than Powell's frequent collaborator Cate Blanchett, who will presented with the statuette at the guild's annual gala in part for her special awareness of the role and importance of costume design. It's a lucky coincidence, since Blanchett also happens to be a Best Actress nominee, the honour should draw even more attention to the craft. It's evident even in Blanchett's own body of work – Blue Jasmine, for one thing – how helping to create character with costume is about much more than crinolines.